Fitting all of the pieces together can be daunting. Economic Responsibility. Environmental Responsibility. Social Responsibility.

It is called the triple bottom line.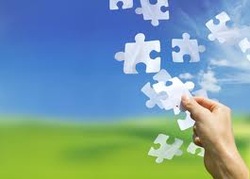 Cenergy has the ability and experience to put all of the pieces of the puzzle together. It starts with a pragmatic vision. It starts with an honest assessment. It starts with a commitment:
to the bottom line, to the environment and to society. Not three commitments, but three parts of one commitment. Sustainability.
It is not simple. It is not easy. It is not without costs. However, it is necessary and can be profitable.
The principals of Cenergy have been involved in various aspects of sustainable enterprises since 1973. From urban redevelopment and transportation solutions to renewable energy and energy efficiencies, Cenergy has accomplished a lot over a broad spectrum of endeavors, for Fortune 500 Companies, private investors and its own portfolio.
The Situation & The Opportunity.
The U.S. has just under 5% of the world's population, but uses 25% of the world's energy and generates 28% or the world's waste. This is not sustainable.
Cenergy has developed ways to turn waste to energy and other reusable resources while improving the environment and creating a profit. It's business model has been proven successful over the past five years.
The People
Bob Joblin
Bob has been involved in development, management and finance for energy-conservation and economic-development projects in the U.S. and internationally for more than 30 years through non-profit organizations, governmental agencies and private investment.
Ted Sniegocki

Ted has 25 years of investment banking experience, underwriting the financing for the development of municipal infrastructure, housing, industrial and energy conservation projects.
CENERGY USA IN THE NEWS:
Adding Dollars to Dairies
http://biomassmagazine.com/articles/8255/adding-dollars-to-dairy
Financing Biogas to Electricity ProjectsPresenters
Jon Best - Sr. International Account Manager for Renewable Energy, Cat Power Finance

Bob Joblin - President, Cenergy USA
http://americanbiogascouncil.org/webinars/financingCaterpillar.wmv
Policy Programs for Biogas
http://biomassmagazine.com/articles/5656/abc-webinar-details-state-federal-policy-programs-for-biogas
Future of Digester Industry
http://www.progressivedairy.com/index.php?option=com_content&view=article&id=6488:future-of-us-digester-industry-prime-topic-at-agstar-conference&catid=77:manure&Itemid=121
Harvest Clean Energy Report
Bob Joblin, President of Cenergy USA and manager of Ag Power Partners on Dairy Sustainability Awards
http://www.aginfo.com/index.cfm/event/report/id/Line-on-Agriculture-22910
Company makes pitch for manure power
http://www.holsteinworld.com/story.php?id=4268
Local Dairy's Digester Nets $500K
Grant
http://magicvalley.com/business/local/article_3e12ff64-b251-59f5-9912-88799537a5a8.html
Dairy Industry Recognizes Best-of-Class
http://www.sustainableplant.com/2012/03/dairy-industry-recognizes-best-of-class-in-sustainable-businesses/
Third-party investors help
http://www.progressivedairy.com/index.php?option=com_content&view=article&id=9103:third-party-investors-help-make-digesters-a-reality&catid=49:managem
---