RENEWABLE ENERGY CAN MAKE THE
U. S. ENERGY INDEPENDENT... NOW.
Center for Advanced Energy Studies/Idaho National Laboratory 2012 Award for Outstanding Achievement in Energy


Cenergy and its partners developed their first renewable energy project in 2008. It was a biomass-to-renewable energy project located on a 4,700-cow dairy. The facility generates 1.2 MW of electricity using methane captured from dairy waste, enough to power about 900 average-sized homes 24 hours a day, every day of the year. In addition, pollutants are captured before they have a chance to escape into the atmosphere. Every molecule of the dairy's waste is used and recycled. In March 2012, the project was recognized for its contribution to sustainability in the dairy industry with a national award for Outstanding Achievement in Energy.

---
"An innovative approach reveals new possibilities for digesters"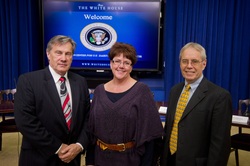 The award was accepted for the partnership, DF-AP, by the principals of Cenergy USA, Ted Sniegocki (r) and Bob Joblin (l) at a presentation in Washington, D.C. Pictured at center is Melinda Hamilton of the Idaho National Laboratory, sponsor of the award. For more information on the project, follow this link:
http://www.usdairy.com/~/media/usd/public/dfapcasestudy.ashx

Cenergy has been instrumental in the financing and development of waste-to-renewable energy projects which are - as you read this - generating enough electricity all day every day to power more than 3,500 homes. At the same time, the projects are improving the environment and producing profits.


---